Hey guys i started this blog because i love to eat and i love going to places to eat so i will share with you guys the places i go and the prices they are ;D Also, some suggestions and perhaps some cooking too...Let's see where this takes us shall we?
Park Slope
Always will be a Brooklynite so we stayed in Brooklyn for lunch ;D Park slope is known for their great bars and restaurants as well as the diverse neighborhood and great schools. This area is also known for the beautiful historic brownstones, Mcclarens and bugaboos, and fancy cars. Park slope is an area for the well off family to reside when Manhattan is too expensive to live. It's not cheap here either. A brownstone could easily cost around two to three million dollars. Near where i live in brooklyn, our homes are around $700,000 so these homes are sometimes triple the amount. This is one of the richest neighborhoods of Brooklyn making it the Upper East Side this side of the brooklyn bridge. i love it here. The general atmosphere of the whole neighborhood is so chill and relaxing. People are friendly and if you sit inside one of the many coffee shops just to people watch, you can see lots of little kids riding in rich little strollers, some more expensive than Gucci and Louis bags, and more bugaboos than i've ever seen in my life. Lots of artists, musicians, authors, and actors like Maggie Gyllenhaal live in the area, but there aren't any paparazzi around because the residents of this neighborhood are really chill and don't care much about fame and glamour. It's more of a toddler's neighborhood really LOL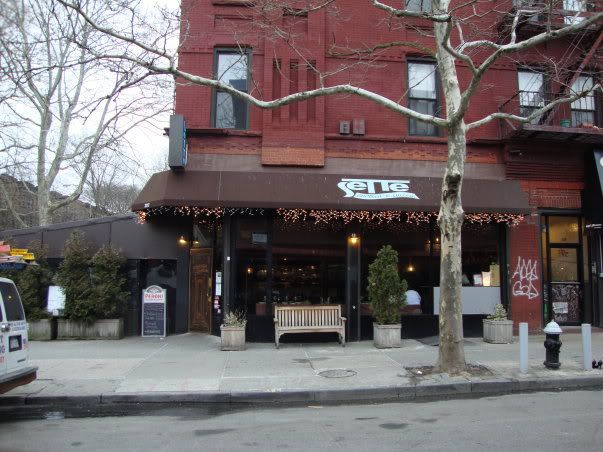 Sette

207 7th Avenue
Brooklyn, NY 11215-3005
(718) 499-7767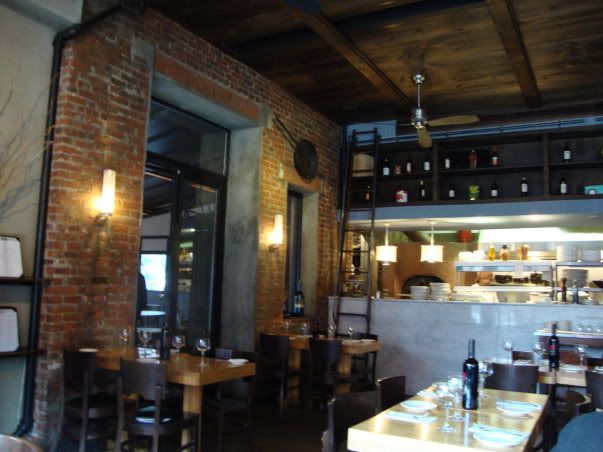 The atmosphere is really cozy and warm...great for a romantic dinner =]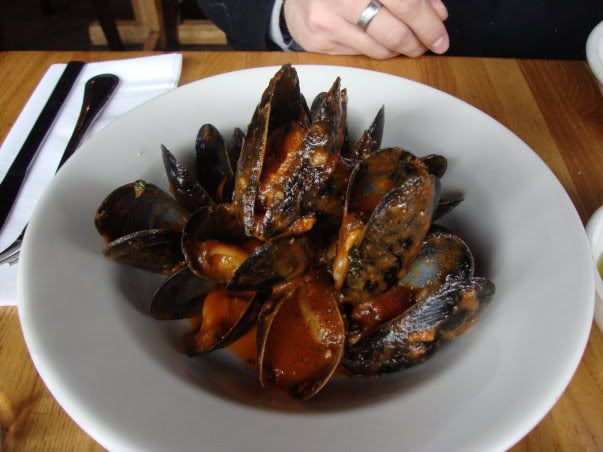 Mussels Marinara
Most flavorful part of the meal, I loved this.
Super tasty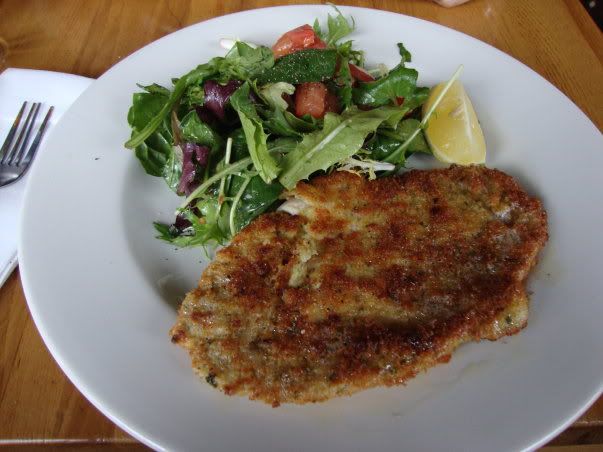 Pollo Milanese
I really loved the salad, it was fresh and crispy yet the chicken was amazingly
bland. Kinda like cardboard. lol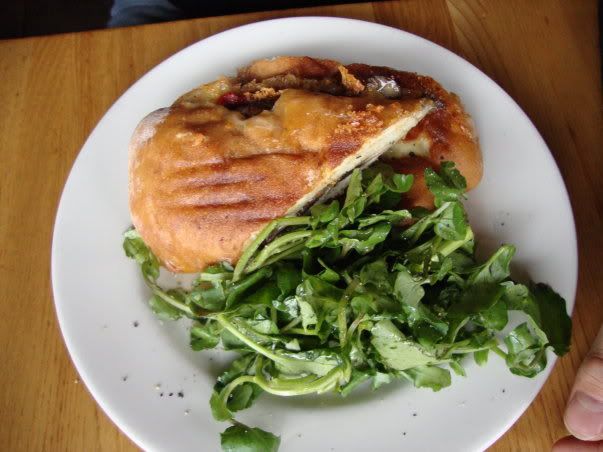 Grilled Chicken Portobello Panini with Watercrest Salad
Again i loved the salad and this time i loved the entre. it was nicely made with a slight crunch to it with intense flavors =]
I'll also try to show you guys the bill, not to show off or whatever but to give you guys an idea of how much it costed me and around how much it would cost for you...LOL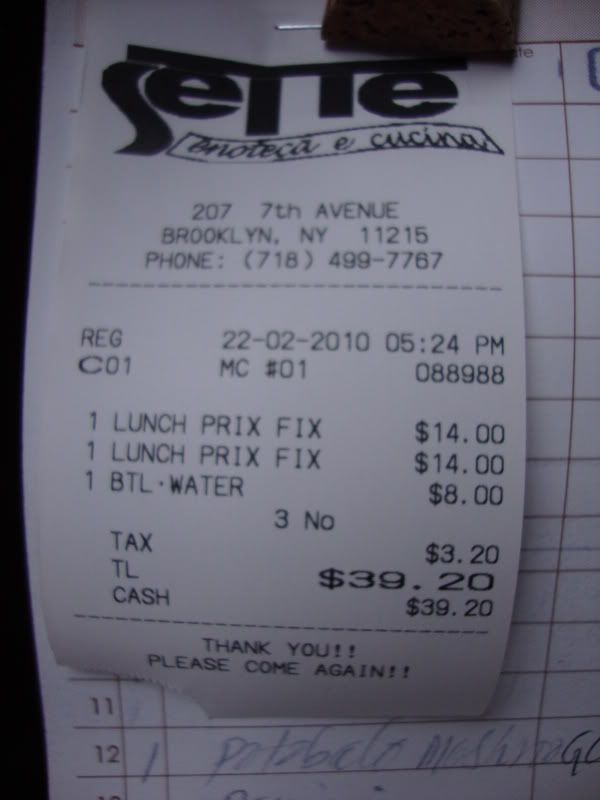 Overall Evaluation: The atmosphere was really warm and comfortable, the staff was extremely friendly and helpful. the courses were plentiful and everything was pretty good.
Would I go back again: No, not for lunch. It's just not good enough for a $40 lunch for two people. I was hoping to spend a little less. With tip it came to $47 so for lunch, I'd rather go somewhere cheaper.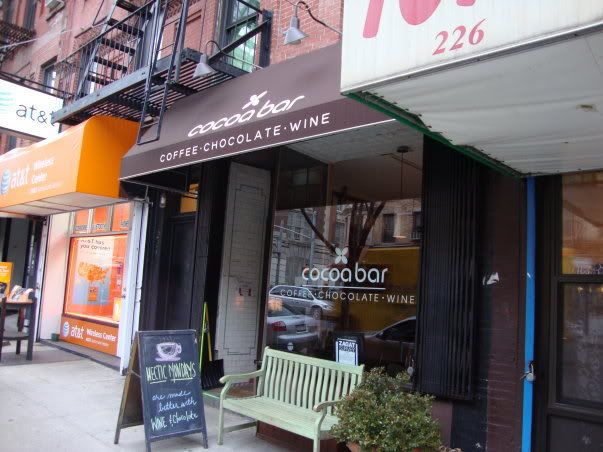 Cocoa Bar
228 7th Avenue
Brooklyn, NY 11215
(718) 499-4080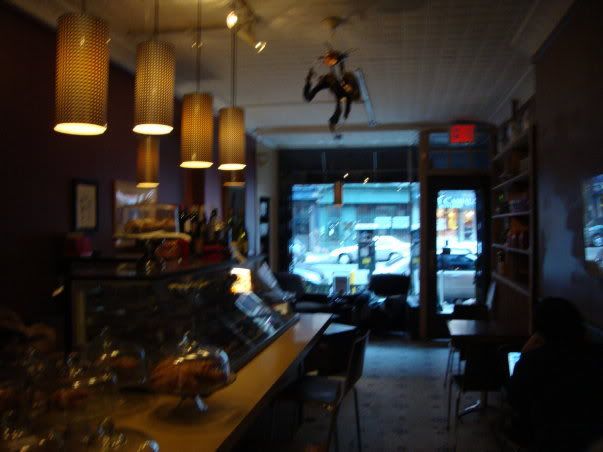 The interior design is like a cozy coffee house, they serve coffee, tea, cakes, hot chocolate, homemade chocolate and sandwiches.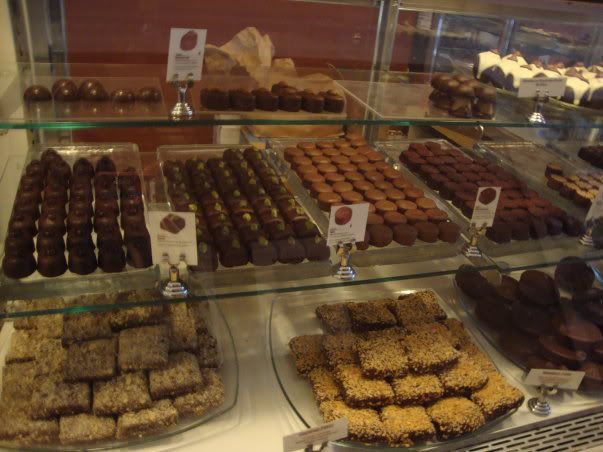 Decadent Chocolates ;D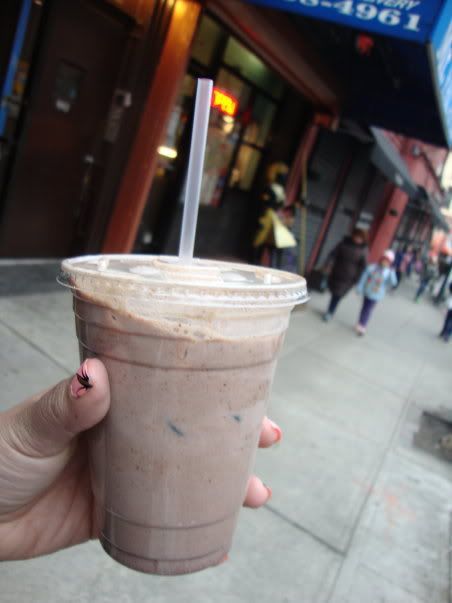 I got the Iced Hot Chocolate. ($4.95) It was really good but it just wasn't as creamy as Godiva's Iced Hot Chocolate...
Overall Evaluation: The staff wasn't very friendly. She actually grilled at us because we were taking 5 minutes to decide what to get...when there wasn't even a line behind us!!! The prices weren't outrageous but I'd rather go to Godiva for same price yet higher quality.


Would I go back again: No. Plain and simple No.
175 Seventh Ave
Brooklyn, NY 11215
(718) 788-2700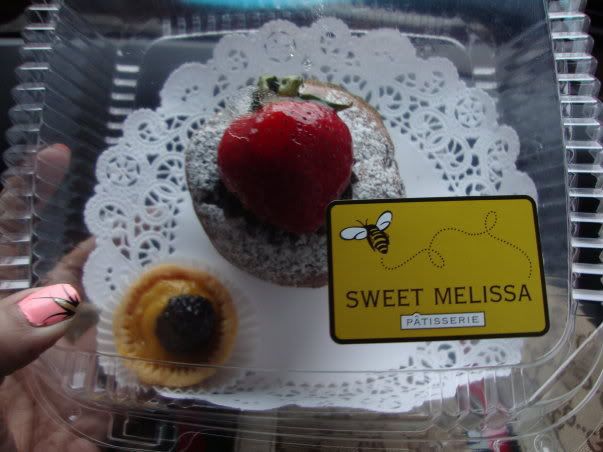 Fallen Chocolate Soufflè Cake($6.80) and the Passion Fruit Tartlet($1.85)
Both delicious but from opposite ends of the taste spectrum. The passion fruit tartlet has a tangy yet surprisingly fresh and tingly taste to it. it was a really good kick in the mouth. the fallen chocolate soufflè cake was really rich and decadent where the soft cake literally melts in your mouth. The chocolate crème was amazing, soft, chocolatey packed and melty in my mouth. This was the BF's favorite while mine was the tartlet.
it was called teh fallen chocolate soufflè because it "fell" in the middle during baking...mmmm they filled it with crème.
Until the next tasty morsel savoring time loves,
Toodles♥